I am a German cartoonist /Comic draftswoman who lives actually in a small village in Lorraine, France.
I was born back in 1965 and grew up in Basle and Geneva as a bilingual. (French and German).

I am working as a free artist, which would not work without the support of my parents. Besides my drawing occupation, I have several animals who live with me; 9 cats, 2 horses, 1 dog, many rabbits, seasonaly some geese (From july until november when they end up as a fiest) and 3 goats. First there where only three: the she-goat Dita and Milo the white buck, but this spring we had their baby Gizmo born.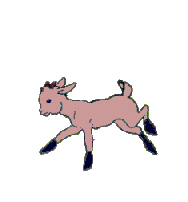 When I have the time I have rides with my old mare Uhura. She is a Swiss artillery-horse who really served in the Swiss army. Now I am happy to provide her a life very mostly in peace. Hondo, my other Horse, is 10 years old now. He is a German saddle-pony and has lot of temperament. That is the reason why I do not ride him often, because of my health-situation. (Young girls of the village do that). But I have have very close relationship to him, he is mine since he was a 6 month old foal.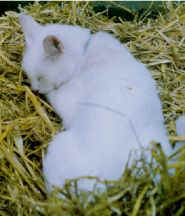 In the cat's kingdom, Oddy is the big king. A white, 14 old big cat with odd eyes, (one blue and one yellow). Oddy does love nothing more than to be with humans. He is still my closest pet. Then there are Gribi, Lea, Wulli, Flecki, Mimi and Wuschi. All familiy members!

Besides the animals I have the garden, where I raise a couple of vegetables. My favorites are pumpkins! Pumpkins are something special! They are magic plants! This year I will raise a great variety of different breeds.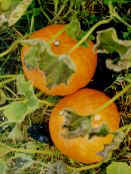 Nature in general is very important to me. When I was a little girl I grew up with grand ma's garden and we had uncounted walks troughth forests. My uncle took me with him to hes anti-nuclear meetings.
Following this, I have also a nature-based belief: I am pagan of south-german tradition. The practicing of this religion means to follow the phases of the moon when I am doing garden work or breed the rabbits and to live with within the rythm of the seasons. To see my pagan site, "Horses and Germans" go here